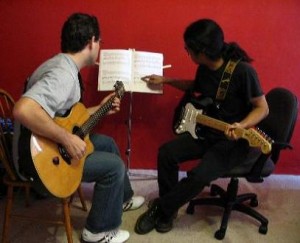 PRIVATE GUITAR LESSONS
Whether you're an absolute beginner or have a little, more, or a lot of experience playing guitar, perhaps private lessons would better suit your musical needs. With private lessons, we can focus on the beginning, intermediate & advanced students' individual musical interests while learning music theory. Beginning students will get a great start, plus each student would benefit greatly from having the instructor's undivided attention.
PRIVATE GUITAR LESSONS
One 30-minute lesson per week, $35.00 per lesson, payable monthly in advance depending on the number of lesson days per month.
You can contact LearnGuitare anytime by phone or text at 909-717-5251 or email: patguitare@yahoo.com